Yesterday, we held our October class photo shoot at Karen Hall & Company & we had so many amazing models for this shoot!! The first one above is Anna, you probably remember her from her senior portrait session that we photographed a few weeks ago…she's a complete natural in front of the camera! The 2nd model below is my adorable sister Mary!! They did such an amazing job on her hair & make-up, she looked so cute!
A more retro/fun look…
GORGEOUS!! Her eyes are amazing!!
Our 3rd model was Olivia, who was there to get some head shots for White Cliffs Hair Studio. This wig looked so amazingly natural on her!! Remember she was in our last photo shoot too? Her mom brought me a copy of Indianapolis Woman magazine yesterday and my "bubble gum shot" made it in the magazine! YAY! She's modeling a beautiful dress by Nikki Blaine Couture who was also on set for the photo shoot…I love having so many creative minds in one place at one time!
Model #4 was Barb, she's become a regular as well and was in need of some more casual head shots for her portfolio…isn't she gorgeous?!
She's soooo pretty!!!
Anna modeled this dress for all of YOU!!! If you are thinking of doing a trash the dress session but don't want to trash YOUR dress, you now have the option to wear this dress for a photo shoot with us!
Tracy from Bliss Boutique contacted me earlier this year and offered to donate this dress to us to use in photo shoots. It's a very pretty but simple dress that will go well with just about any jewelry, flowers, veil, etc….the perfect trash the dress kind of dress!!
So if you're interested in booking a trash the dress session with us and want to wear this dress, email me at erin@erinhessionphotography.com and we'll get it scheduled ASAP! (The dress is about a size 10/12 and was pretty big on Anna but we pinned it in the back) 😉 By the way, Bliss Boutique is a gorgeous bridal shop in Brownsburg that carries a huge selection of gorgeous dresses, all priced under $1,500 so if you're looking for a wedding dress, tell Tracy I sent you her way!! She's soooo nice and super sweet to work with!!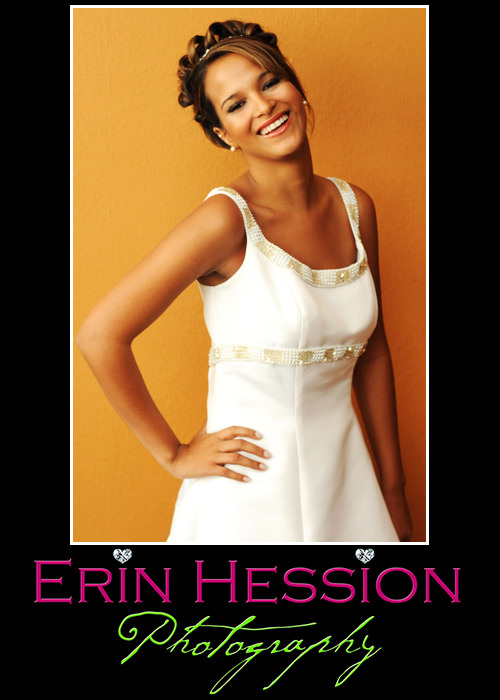 Model #5 was Alex, he came to us from Berny Martin, the owner of Catou Couture…Berny is an AMAZING fashion designer and Alex is modeling one of his suits here. Alex was also a model in Midwest Fashion Week, the largest Midwest fashion show produced by Berny himself!
Then Anna changed into one of Berny's amazing dresses…wow! They looked like they were ready to walk the red carpet!
Doesn't she look like Halle Berry here!?
Model #6 was my youngest sister Leah…she is so gorgeous!! Karen & her crew wanted to go for a young/fun teen look with her and I think they pulled it off very well!
She's soooo pretty!!
She loved the blue table so we did a few shots there for her…
Such a cute school girl look!!
Thank you to everyone who made yesterday's photo shoot a huge success! Our next class photo shoot will probably be held in February so if you're interested in booking a spot in the next shoot, email me at erin@erinhessionphotography.com and we'll put you on the list to be notified when the next photo shoot date is announced!