Sarah + Tony = MARRIED!
On 10/24 we photographed Sarah & Tony's beautiful Fall wedding at Northminster Presbyterian & Hillcrest Country Club. Not only are they an adorably sweet & fun couple, but Sarah was glowing all day during photos!!! Her mom told me that ever since she was a little girl, she dreamed of having an awesome Fall wedding with tons of vibrant colors and trees in the background of her photos…so you can imagine how she felt like a kid in a candy store when the street next to the church was lined with fabulous yellow & orange leaves, it was truly amazing! 🙂
Hi ladies!!! 🙂
Posh Petals did an awesome job on their flowers!
I had Liz go outside and grab some pretty leaves before the ceremony, I did this shot a few years back and the couple LOVED it and it was the perfect time of year to do it again! 🙂 Liz arranged them and shot it this time and I think it turned out awesome!!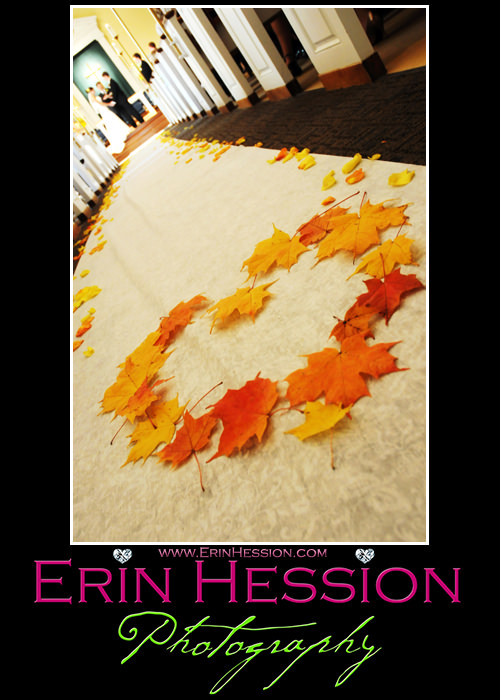 YAY!! The happy couple! 🙂
So sweet…Sarah just lights up whenever Tony is around, it's truly adorable.
The light pouring in through the trees was AMAZING!
After we finished pics at the church, we took some more at Hillcrest…they had 18 people in their wedding party so I thought a fisheye group shot near the golf course would be perfect! LOL They kept saying "there's no way we're all in this shot!" 😉 Yep, you were all in it!
It was great to be back at Hillcrest again too, I have such fond memories from spending time there as a child. My family organized several charity golf outings there in memory of my Grandpa Hession (who was a member) and when I was little, my job was to bake cookies for the golfers and deliver them by golf cart during the tournaments. Isn't it funny the things we remember as we get older?! 🙂 I can't believe that's been over 20 years ago!
John & I played with several neat ring shot set ups that night, I think this one is my favorite! 🙂
Classic Cakes did an awesome job as usual!!
They actually chose a DMB song for their first dance, isn't that awesome!?
Then her dad chose a really sweet sentimental song for the father/daughter dance…I don't think there was a dry eye in the house!
Favorite father/daughter shot ever. Yep, I went there. 🙂 The available light coming from the DJ's lights looked amazing!
Sooooo sweet…Sarah was so emotional, I love this shot too…
What a great night! Thanks for a fun time you guys, hope you had a blast on your honeymoon!! More pics coming soon! 🙂
Comments
comments