Lauren + Evan = MARRIED!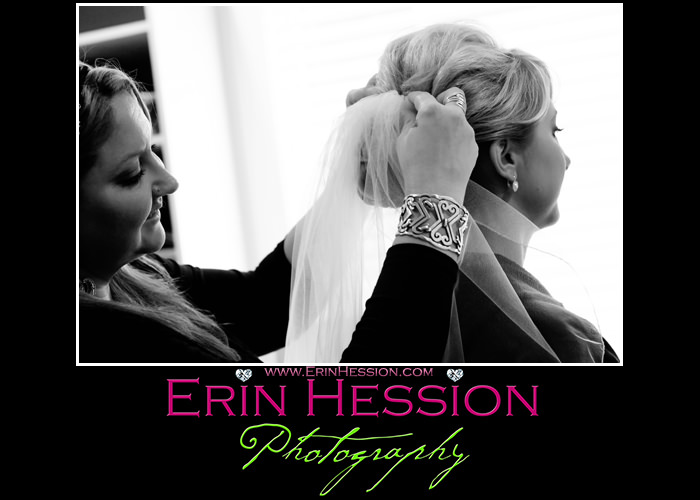 Last Thursday, we photographed Lauren & Evan's FABULOUS New Year's Eve wedding & reception at the Indianapolis Marion County Public Library (Central Library) and we had such a great time! Karen Hall & Co. began hair & make-up at Lauren's parent's home in Zionsville that morning and everyone just looked amazing. Here's Lauren's dad helping her with her pearls…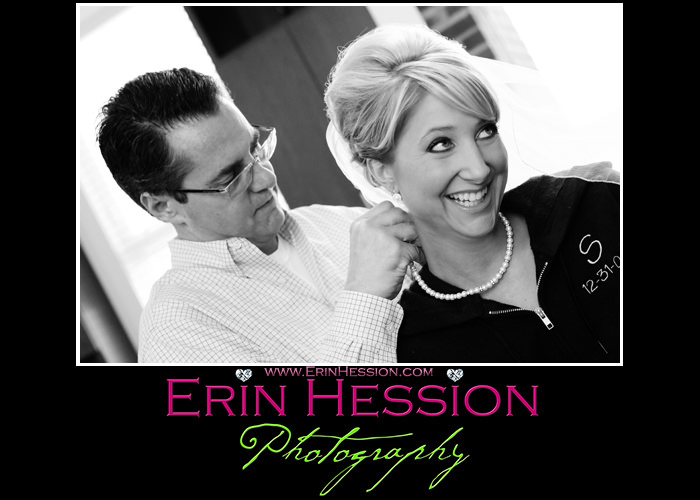 Here's Lauren giving her dog Louie a kiss before she leaves to get married… 🙂 He looks kind of sad, I don't think he wanted her to leave! LOL
My side-shooter Melissa started shooting at the Canterbury Hotel where the guys were getting ready that afternoon…
Figuring out the pocket squares…
Meanwhile, back at Lauren's home, the girls were busy packing up to leave for the Library…we found these cute shoes and perfume bottle sitting out and since it was "pink with bling" it was photographed – of course 😉
LOL!
Louie was sooooo cute, he looked like he was saying "I'm going in the limo too, right?" 🙂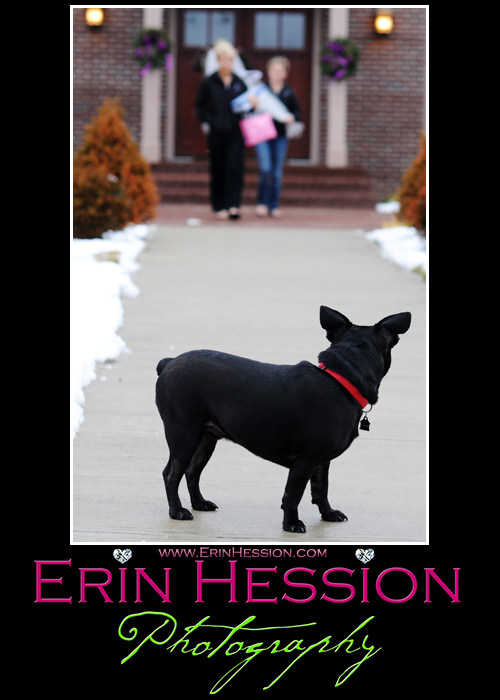 Brrrr!! Everyone was bundled up for the cold weather but super excited to get to the library!
When we got to the library, I found this adorable garter in Lauren's bag, SO cute!!
And of course, we wanted to utilize a lot of books for props that day since it went along with the venue… 😉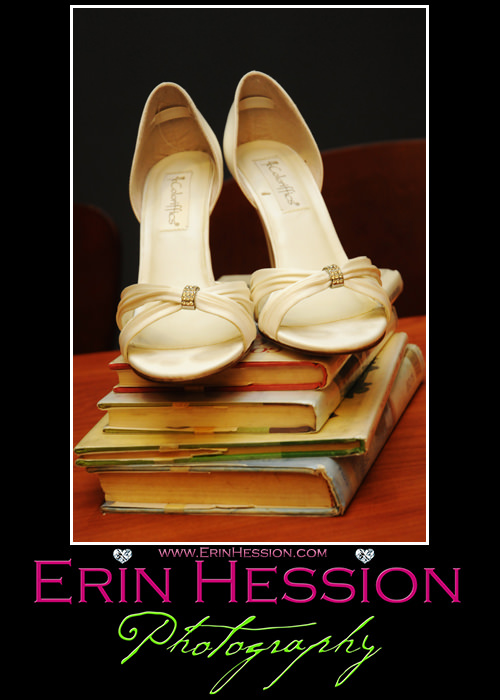 The girls were all so helpful…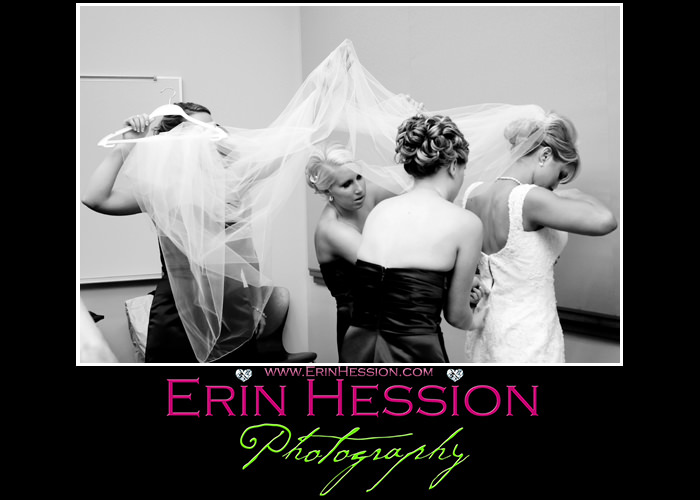 Loved her shoes!
Lauren & Evan decided to see each other before the wedding so we set them up for the big reveal in the West Reading Room…
Awww 🙂
They had such a fun wedding party!! They did anything we asked them to do for photos! (Thanks everyone!!) 🙂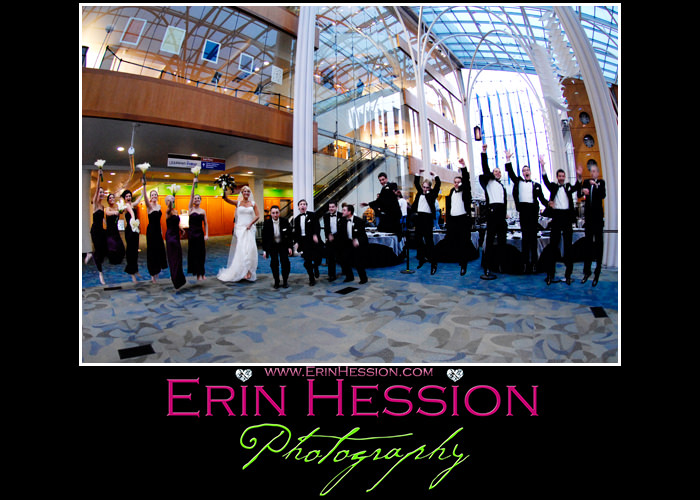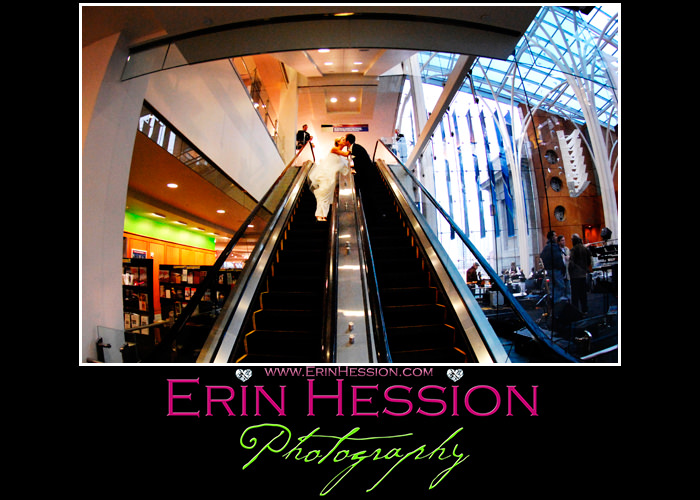 Our handsome groom, Evan…
Our beautiful bride, Lauren…
Can I just say that I LOVE the Central Library!!? Talk about an amazing venue for weddings & receptions!! WOW Isn't Lauren's gown STUNNING? She found it at Brides by Demetrois.
You two are so adorable together! 🙂
Check out that Indy skyline in the background! 🙂
Guess where they're at right now? Yep, JAMAICA!! 🙂
LOVE this one…
Favorite!!
Lauren, I think you could be in a magazine…seriously…you're definitely model material!!
I caught them kissing behind the books 🙂
A few outdoor pics before the ceremony started…
Some cross processed action going on here….love it!
Then I took them down to the parking garage where I noticed an awesome light display on the wall…a bit unconventional for wedding photos but I think they'll like these… 🙂
LOVE the silhouette!!
Evans A/V did an AMAZING job with all of the uplighting that night…if you stood in the center of the ceremony room and looked up, this was the view….
Ken was so proud to walk Lauren down the aisle….it was so sweet 🙂
The ceremony area looked like a beautiful winter wonderland "Hollywood glam" wedding, I loved it!
They did a ring blessing ceremony which was so amazing…the ushers walked down the aisle with long chords and the rings were placed on the ropes so that each row would bless the rings as they moved them down the chord to the front of the altar area. Isn't that neat?!
Evan's mom was the officiant, which made it so sweet and personal…and Evan's wedding ring was his father's wedding ring that he wore before he passed away. Everything was so personalized, sentimental and absolutely perfect.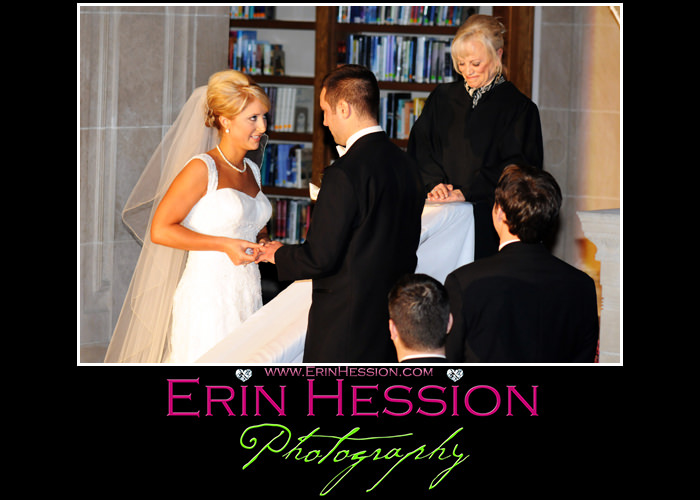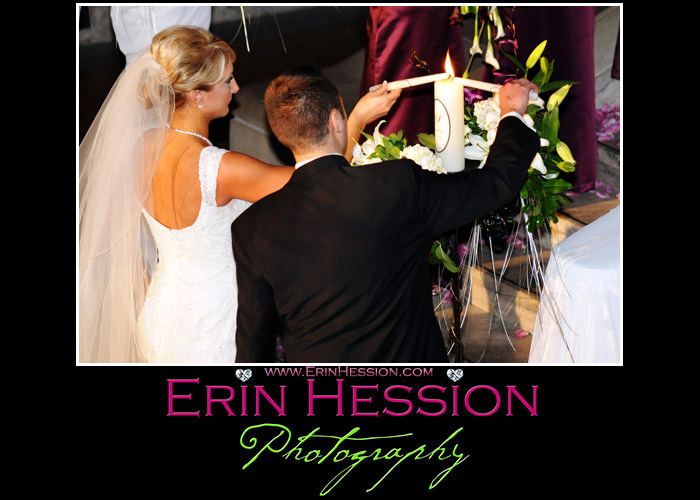 YAY!
I LOVE this shot, Lauren is just glowing and everyone is so happy for both of them!!
Deborah & Cassie from A Touch of Elegance were AWESOME to work with…they coordinated everything from start to finish and I just adore them! They're organized, helpful and so much fun to be around. Here's Deborah helping Lauren remove her veil after the ceremony… 🙂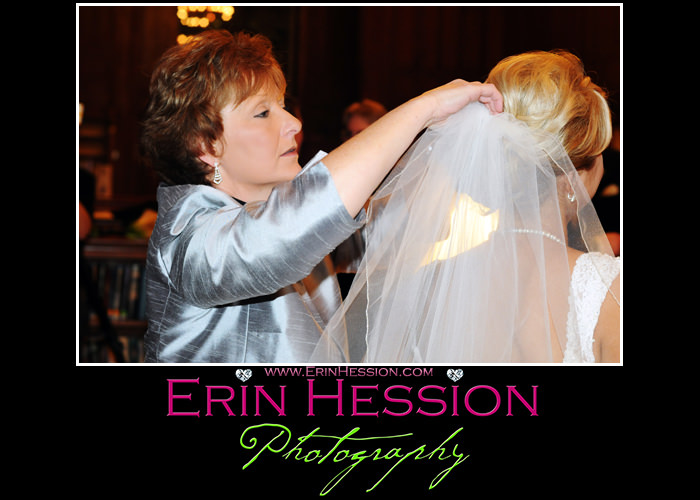 The details and decor were amazing, definitely a photographer's dream!!
Great lighting really does transform the entire look of a room….Evans A/V is fantastic!
Bokay did an amazing job with all of the flowers and A Classic did a great job with all of the table linens and rentals!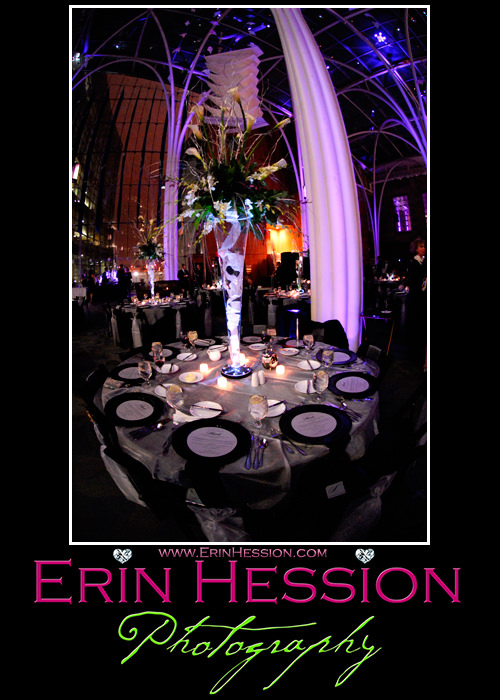 Jamee Bryant from Setting The Mood created this AWESOME over the top candy buffet that I LOVED! Talk about blinged out for New Year's! 🙂 The candy was color coordinated to match the wedding colors, the take home favor boxes had their monogram on them and Evans A/V helped with the uplighting on the candy buffet and it really looked magical…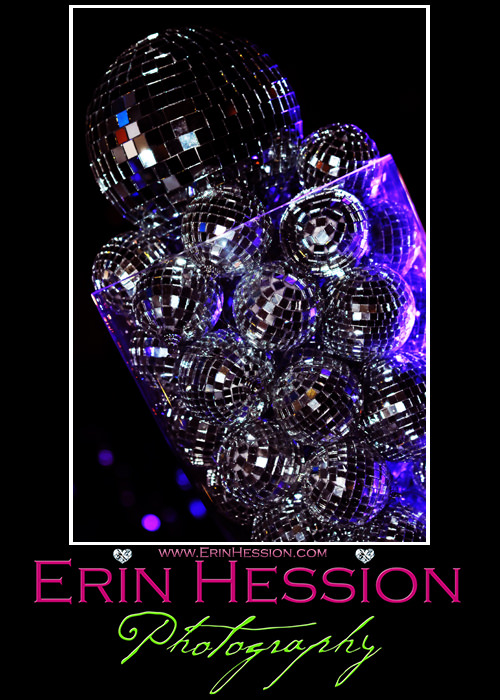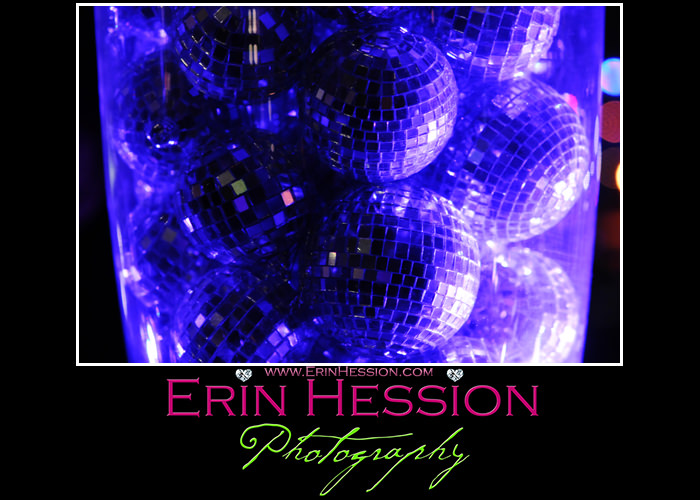 The candlelight looked amazing around the library…
The head table's decor was equally impressive!
Deborah & Cassie came up with this unique way to display the name cards on top of the party horns, they are so creative!
The monogrammed GOBO lighting was a nice touch too!
Sweet Seductions did a fantastic job on their cake!
YUM! 🙂
Evan is so happy! 🙂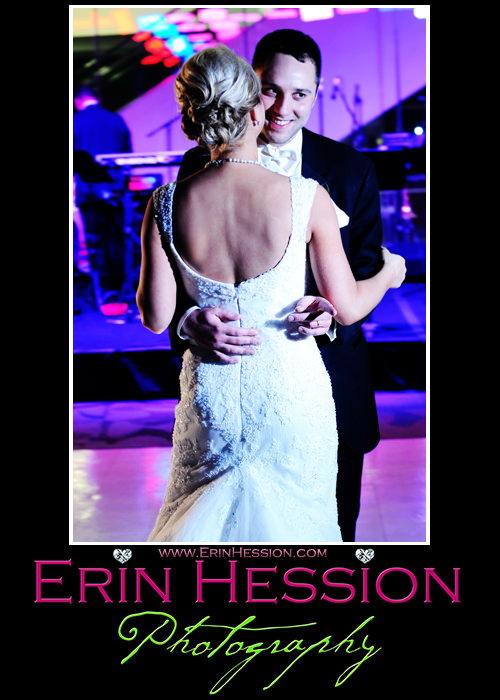 FAVORITE! I may even make a canvas out of this one!! 🙂 My friends Jet & Danielle Kaiser of Kaiser Productions were the videographers for the event and Jet's video light was at the perfect place at the perfect time. I love utilizing extra video lights to produce unique images like this. I can't wait to see their work, I'll be sure to post a link to it when they have the video preview completed!
The Souled Out Band was AMAZING!!
Nora (the coordinator at the library) is so sweet & easy to work with…she took us upstairs during dinner to get some overhead shots of the room – LOVED IT!
This guy got up and belted out "We didn't start the fire" without missing a single word! Incredible!! Loved the concert lighting here, the band really nailed it!
Later on in the evening, Lauren & Evan surprised their guests with snacks…they had a nacho bar, then they served french fries in a cone and then coffee & donuts after midnight!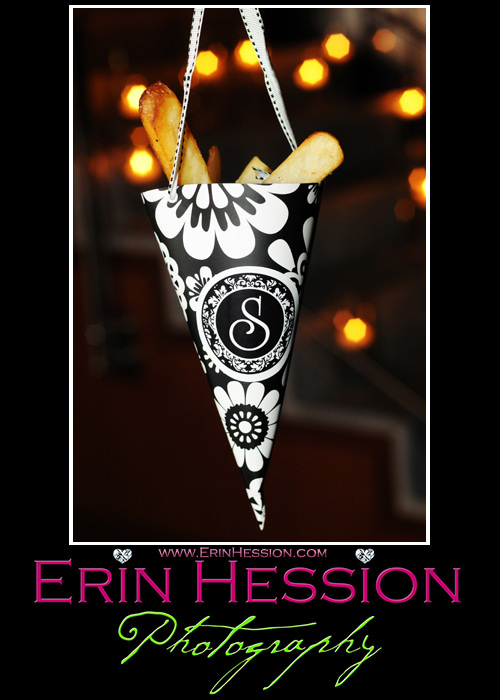 They also had a fantastic photo booth available for their guests….freezeframez is unique because more people fit in the booth than the traditional photo booths that we've seen AND they brought cool props with them, so fun! 🙂
The evening wouldn't be complete without some cool ring shots!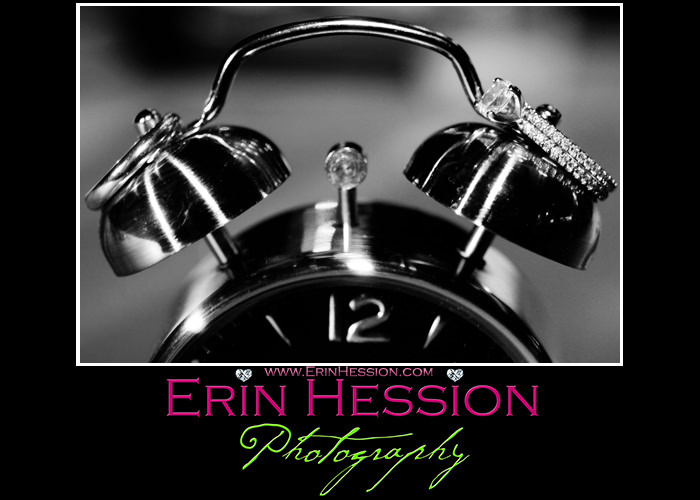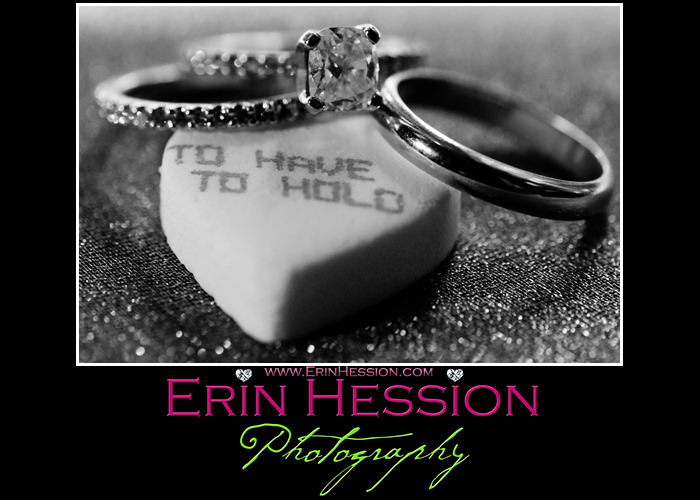 A Touch of Elegance team – having a blast! 🙂
Lauren & Evan got up on stage for the countdown to 2010!
Each of the table numbers were clocks that were set to midnight so when the clock struck midnight, they all went off, isn't that AWESOME?! 🙂 You could just feel the excitement in the air at midnight, it was incredible.
HAPPY NEW YEAR!!!!!! Their first kiss of the New Year as husband & wife! 🙂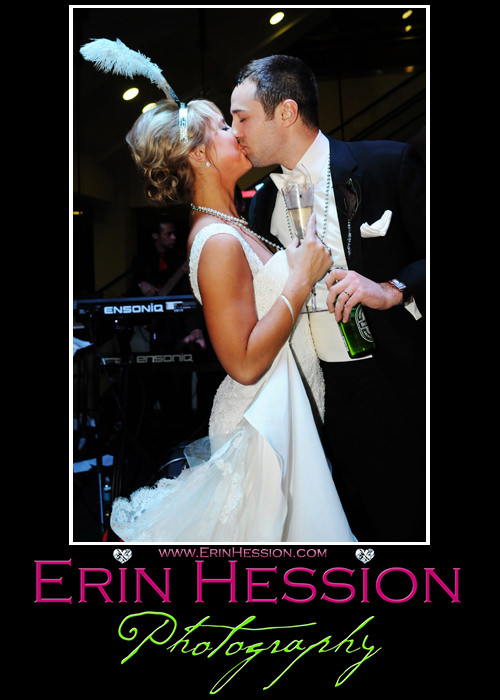 Jet caught it all on their video of course! 🙂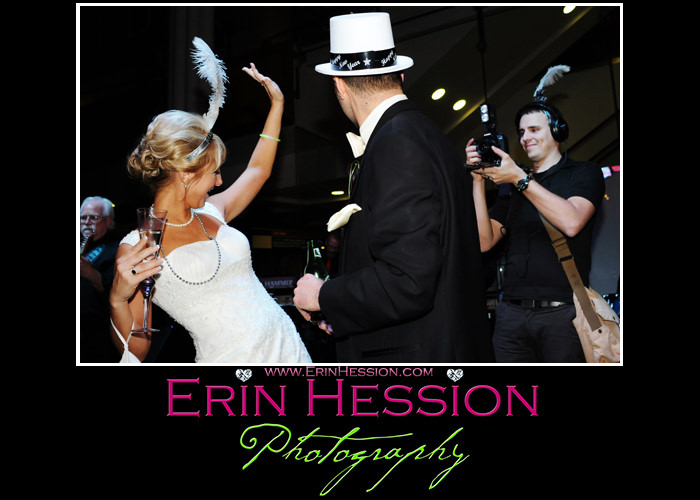 Leaving the reception after the best night of their lives…
Snuggled up in the limo… 🙂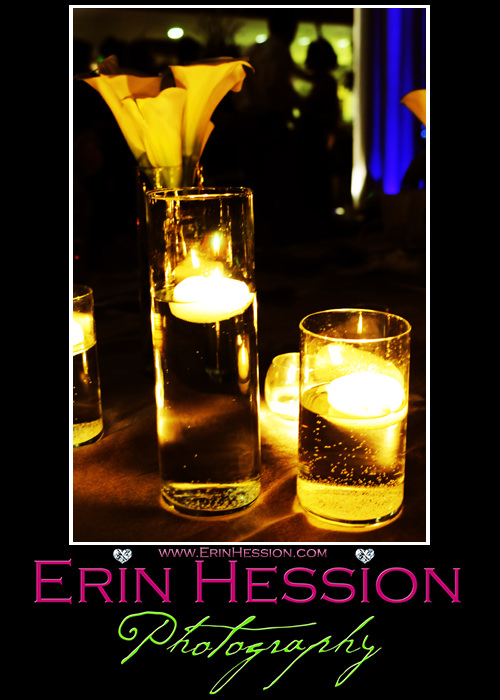 Thanks for a FABULOUS time you guys!! Your friends & families were all so wonderful to work with and it was an honor to be a special part of your evening. I hope you're having a blast in Jamaica, take lots of photos since I'm not with you this week! 😉 More pics coming soon!!
Comments
comments