Birthdays and snow days….
I don't post a ton of personal pics on here anymore since most of you see these pics on facebook right away, but I thought I'd post a few quick personal pics from the last few weeks…we have 3 birthdays within 13 days of each other this time of year – my mom's, dad's and Buddy's! For my mom's b-day, we had Karen whip up some yummy cupcakes at Holy Cow Cupcakes! (aka "heaven in a box") lol 🙂
She loved her presents! We bought her some new CDs that she's been wanting, along with 3 new charms for her Pandora bracelet! 🙂 Here's one of them…the "bling" charm 🙂
Buddy was all interested in what she was unwrapping! LOL
Not birthday related, but I've been so swamped with editing and photo shoots these last few months that my awesome hubby ended up putting up the tree himself this year! He did an awesome job though…I LOVE our pink & green tree! 🙂
A couple of days later, we celebrated my dad's b-day…my sisters chose a beach theme for the cake, his favorite! 🙂
He was loving the card that I found for him! It cheers and lights up when you press the button…if you've followed my blog for awhile, you probably know that he's a huge ND football fan so he LOVED the football pics and the football display case that we got him for his b-day!
Even Mickey was in a celebratory mood! 🙂
The next day was Buddy's birthday!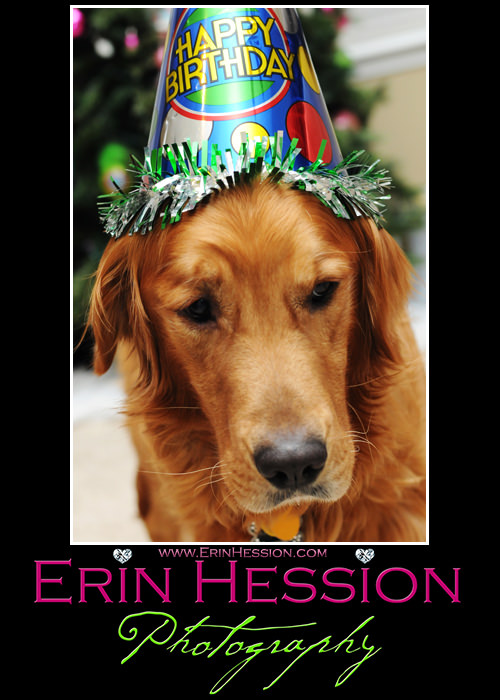 LOL I know this look…he's thinking "if you're making me wear this embarrassing hat, there had better be a treat coming my way soon!" 🙂
Yay! New toys!
The next weekend was our first big snow and I've always wanted to get some cute shots of him in the snow…when we were in the backyard, his BFF Murphy came out to see what was going on!
Love this one! 🙂
Comments
comments
Sorry, the comment form is closed at this time.