9 Wedding Secrets From the Pros
So much time, effort and money goes into planning weddings these days and of course every engaged couple wants their wedding day to be flawless! In today's blog post, we're giving our dedicated followers some practical tips, insider secrets and tricks of the trade that we've learned from over 20 years of experience in photographing weddings. We hope this helps you create a stress free wedding day!
Remind your wedding party & families not to post any photos to social media until AFTER the wedding. This is especially important if you're not seeing your groom before the ceremony, there's a chance that he could be scrolling Facebook or Instagram while hanging out with the guys beforehand and accidentally see a photo of you in your dress posted by a well-meaning friend or family member.
Print out your photo schedule and have extra copies on hand to give to your families and wedding party members at your rehearsal. The night before is a better time to answer any logistical questions and it gives everyone an idea of the overall game plan for the wedding day so that they're all on time and where they need to be for photos to run smoothly.
Do a trial run of your hair & make-up beforehand and see how long it takes them to actually do your hair & make-up. This should give you a good indication as to how much time they'll need on the wedding day so that you can allow plenty of time in your schedule. This also gives you a chance to give them feedback on what you like and don't like so they can make any adjustments before the wedding day.
Choose a long lasting lipstick that won't come off easily when you're kissing your groom during photos! (And do a trial run of that beforehand too) I can't tell you how many grooms have been annoyed by constantly having to remove pink or red lipstick or lip gloss from their lips after each shot! LOL
Wear practical shoes! I love it when brides choose cute, sparkly or fun shoes but try walking around in them for a few hours and see if they're really as comfortable as they seemed in the shoe store. I always suggest that you consider bringing a more comfy option for the reception because after standing in high heels for 10-12 hours in a heavy dress on a hot day, those once comfy shoes can seem like the shoes from hell by 10 p.m. Trust me on this one.
If you're wearing a veil, just know that every time someone hugs you, they probably won't think to wrap their arm UNDER your veil. This means that every time you're hugged (which will happen a LOT that day) your head will be yanked back. Not only do you want to make sure that your hair style is very secure but you'll also want to crisscross 2 bobby pins in 1 or 2 spots to attach the comb to your scalp to make sure it's extra secure to avoid a veil mishap!
When it's time for your final dress fitting, take your maid of honor, mom or a bridesmaid with you so that they can see how to bustle your dress. Additionally, it's good to ask your alterations person to either color code or number the bustles so that whoever is bustling you can easily figure it out during cocktail hour. Also, pack large safety pins in an emergency kit because we've seen hundreds of bustles break in our career. People accidentally step on the edge of the dress while dancing and it just happens. Don't freak out, just pin it up and continue enjoying the night!
Wear waterproof mascara and even if you don't think you'll be super emotional, tuck a Kleenex into your dress or bra, just in case. You never know when someone may say something heartfelt that will start the waterworks and you certainly don't want to spend lots of time redoing your make-up! Also, if you do cry, blot the tears with a Kleenex, never wipe them away. Blotting makes for a quicker make-up touch-up if needed.
Allow extra time in your schedule. ALWAYS. You never know when you'll run into delays, traffic, someone who forgot something, etc. We always allow extra time in our schedules and have an emergency kit handy, just in case. Our goal is to educate our clients and help set them up to create a successful, memorable wedding!
As always, if you're still in need of a photographer for your upcoming wedding, click HERE to check availability of your wedding date!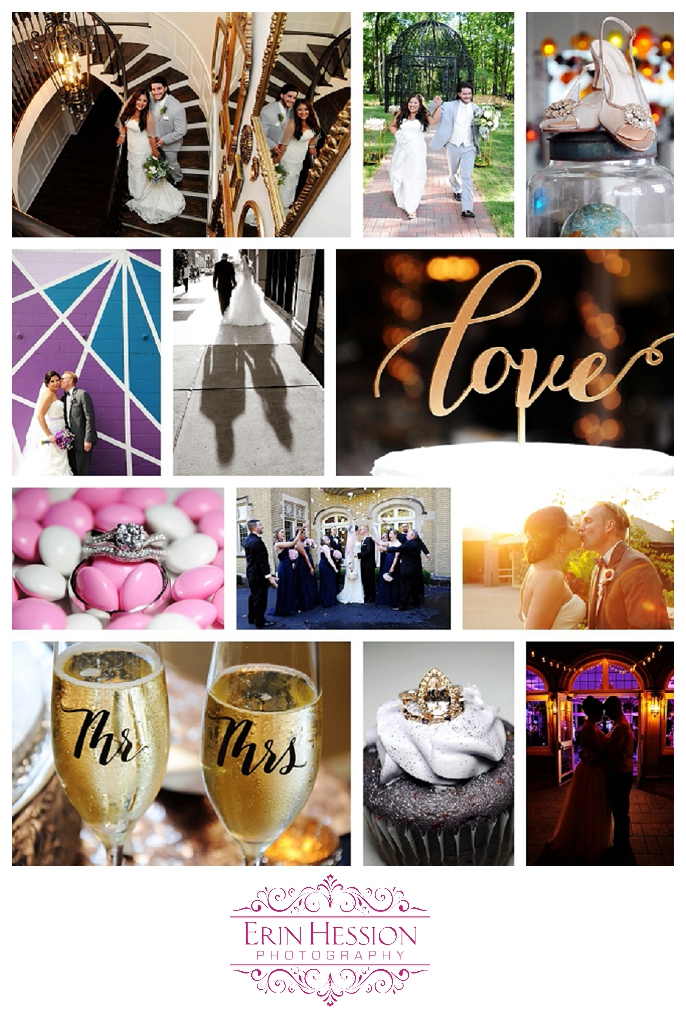 Comments
comments
Sorry, the comment form is closed at this time.