Kaleigh + Devyn = Married!
We photographed this sweet couple's Greek/Macedonian wedding and we had so much FUN with them! Their traditions were unique, their details were gorgeous and we even had some funny surprise moments throughout the day! When we were photographing Kaleigh outside at the church, it was a very windy day and her veil blew onto the roof of the church! Her reaction was priceless, I'll never forget that moment. 🙂 After the wedding, we headed down to Monument Circle (where Devyn proposed to Kaleigh) and as I was taking some test shots, this guy got down on one knee and proposed to his girlfriend right in front of me! We couldn't have planned it any better, I love being at the right place at the right time! LOL We ended up exchanging information and I sent them photos from their actual engagement afterwards which was really cool.
Vendors:
Photography: https://erinhession.com/
Church: http://www.holytrinityindy.org/
Reception, lighting & catering: http://www.indianaroof.com/
Flowers: Sharon McKee
Cake: http://www.classiccakescarmel.com/
Rentals: http://www.aclassicpartyrental.com/
Video: http://www.caitlynnelkinsproductions.com/
Transportation: http://www.integritylimoservice.com/
Bridal gown: https://mariegabrielcouture.com/
Bridesmaids dresses: http://www.davidsbridal.com/
Tuxes: https://www.menswearhouse.com/
Rings: https://diamondsdirect.com/indianapolis
Invitations: http://www.noteworthy-expressions.com/
Hair & make-up: Leigh Bloom & Amy Ferguson
In Kaleigh's words…
1.      How did he propose? "Devyn proposed downtown on Monument Circle. We were walking around and talking about how we would like to come down there for pictures on the Circle when we get married and that's when he got down on one knee!"
2.      What was your favorite wedding moment? "Devyn and I both had the same favorite moment. We both enjoyed the our ceremonial walk, our first steps as husband and wife, around the altar." 
3.      What was the funniest wedding moment? "The funniest moment for me was losing my veil on the roof of the church. We had to have two of our ushers get up on the roof to retrieve it."
4.      What was your first dance song? "Perfect" by Ed Sheeran
5.      Where did you go on your honeymoon? "Cancun, Mexico"
6.      What advice would you give to future brides? "Be in the moment and don't stress about the little things. I gave myself a deadline of 3pm the day before the wedding to stress. Anything happening after that was clearly meant to be." (Very good advice Kaleigh!) 😉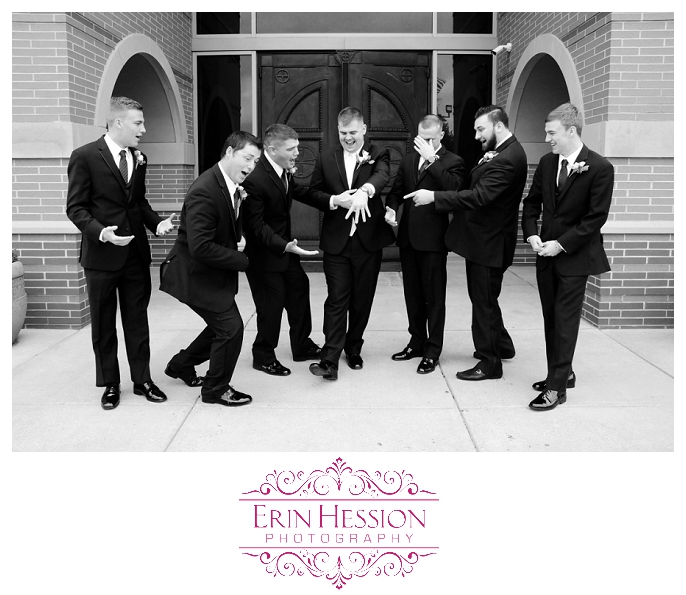 Comments
comments
Sorry, the comment form is closed at this time.