Birthdays, Head Shots & Awards!
I thought I'd post some personal pictures in between all of these client photo shoots! 🙂 After Keri & Brad's engagement session, John & I headed over to Hollyhock Hill to celebrate a double birthday celebration for my step-mom's parents. Grammie & Gramdad are so cute together, check out some of my favorites!
Awww!!!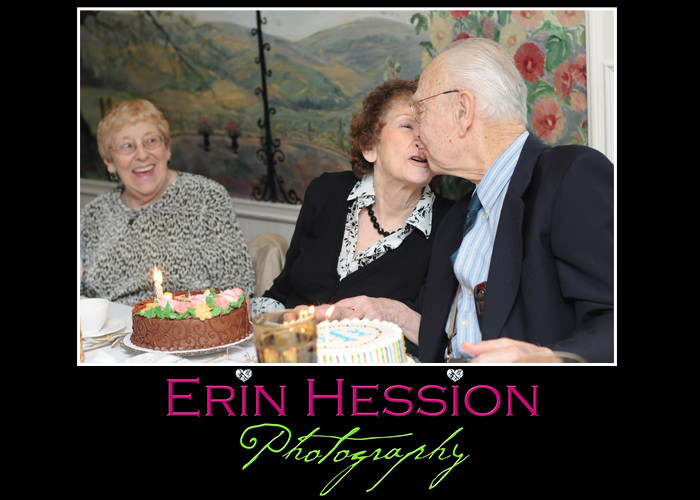 Classic Cakes did a fantastic job on both of their cakes as always! 🙂
My step-mom and dad together after dinner….
And we took some pictures outside of the restaurant afterwards, happy birthday you two!! 🙂
The next week, I had the honor of photographing dad's new head shot for the 2008 Notre Dame Fantasy Football Camp program. This was definitely my favorite! He even wore his blue ND jersey for the occasion!
And as many of you know, I was recently nominated for the Starkey Entrepreneurial Woman Award. Last Friday morning they honored 17 finalists at an awards breakfast at the Eiteljorg museum. I was up against some AMAZING women with some AMAZING stories, and even though I didn't win this year we still had a great time. Jannett Keesling from Keys to Work, Inc. won the award this year by helping over 8,000 people get out of the welfare system. WOW! How could I even compete with that?! LOL Anyway, I just wanted to congratulate her on an awesome job!! 🙂
John took some pics of me with my mom afterwards…mom got her hair cut short again, I love it! Isn't it cute?!
And he took one of me & dad together!
Thanks you guys for always supporting me and my business!! Love you all!! XOXO
Comments
comments
Sorry, the comment form is closed at this time.