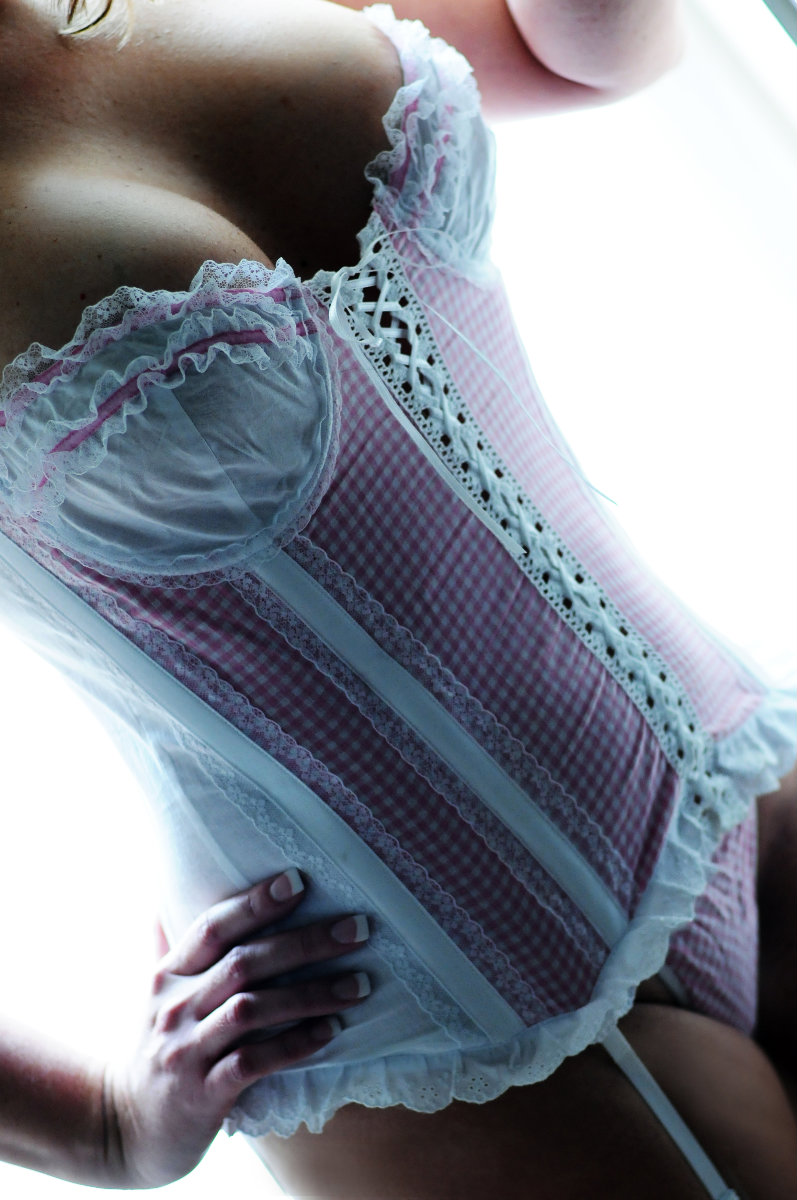 Surprise your significant other with some fun, sexy photos!
Our $699 boudoir session includes Erin as your primary photographer and another female as her assistant for a 2 hour photo shoot at a local hotel (hotel reservation not included). We suggest that you bring 8-10 outfits for your photo shoot, which could include sexy lingerie, costumes, jerseys or even something as simple as a white button down shirt. It's entirely up to you how much you want to reveal during your session. We encourage our clients to bring fun accessories though! Beautiful jewelry, sexy shoes, thigh highs, fun hats, neckties, flowers, feather boas or anything that goes well with your theme or outfits is a definite must! Don't feel like you have to spend a lot on new outfits and accessories, we can create awesome images from items like those that you probably already own.
A few weeks after your photo shoot, we will post your images on a password-protected website (for 30 days) for image viewing. The boudoir package also includes 20 retouched 5x7s of your favorite images in a small black album for your significant other as well as the ability to download all of the high res images directly from your website. We recommend booking your session at least 2-3 months before the date that you plan to give your significant other the book of photos, this allows us enough time to edit and post your photos online, as well as time for you to choose your favorites and receive your album.
We know that some women are apprehensive about this type of photography, but rest assured, we are completely professional and we are a lot of fun to work with! We will help you feel at ease and pose in you flattering positions to accentuate all of your assets. We have a habit of showing off some awesome images on the back of the camera as we're shooting too; we love to see our client's confidence level increase throughout the session. We recommend that you bring some of your favorite music with you (fun and sexy songs) and we also highly recommend that you book a professional hairstylist and make-up artist. Our preferred hair & make-up pros have extensive experience in professional airbrush make-up and most of their make-up artists and hair stylists will come to wherever you plan to get ready that day. (We recommend false eye lashes too, they look amazing in boudoir photos!) If you are more comfortable doing your own make-up, please know that we always start with lighter & softer looks and then move into more dramatic looks and outfits so it's better to add make-up as you switch outfits. Save the red lipstick for the end of your shoot!
Our favorite "boudoir-worthy" hotel is the Holiday Inn in Fishers. It has great window light, colorful walls and furniture, and a neutral bed color scheme that matches everyone's outfits. It is also typically very reasonably priced! Check-in is at 3:00 p.m. (they do NOT allow hourly rentals, please don't ask them about that) so plan to book the hotel for the night, even if you don't stay there all night. We recommend doing hair & make-up from about 3:30-5:30 and then beginning your shoot around 6 p.m. We shoot a lot of boudoir sessions on weeknights and weekends when we aren't already booked for weddings or other portrait sessions. We will bring a fun idea book with us so that you can show us what types of poses you like and would be comfortable doing. Also, we do not post your photos on our blog or website without getting your permission first and we have permission from all of the women currently featured on our blog or website. We respect your privacy and will never include your full name or tag you in any boudoir photos online.
Feel free to check out our boudoir gallery and then contact us to check availability before booking the hotel, hairstylist, and make-up artist. Once we get back to you (usually within 24-48 hours) we'll confirm availability and send you the link to book your photoshoot online. Payment is due in full when booking your shoot.
Some recent testimonials from our boudoir clients…
"Erin, I wanted to thank you so much for my boudoir shoot. I can't remember when I had such a self-indulgent day, it was better than a day at the spa! While I was nervous at first, you made me feel so relaxed. I have told so many of my girlfriends what a fun experience it was. Everyone is just as excited to see the pictures as I am. I value your professionalism and was so impressed with your ability to put me at ease. Thank you again for your time and talent!"
"I have absolutely no words…my boudoir album is SO PERFECT!!! I CAN'T WAIT for our wedding so I can brag on you publically! Thanks again!! I can't believe how awesome this is, seriously."
"Erin, these look AMAZING. I absolutely love️️️️ them! Seriously – you did an incredible job!!"